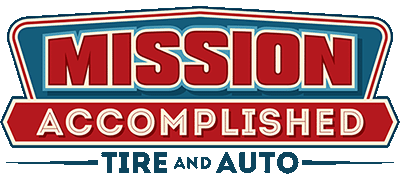 New Baden & Belleville
Google
Google Belleville
ASE Certified
Family-Owned & Trusted Since 2011
Appointment
New Baden & Belleville IL

Complete Auto Repair & Tire Shops

Mission Accomplished Tire & Auto welcomes you to our website. Mission Accomplished Tire & Auto is a well known and respected auto repair and tire business with locations in New Baden and Belleville IL. Our shops are known for our honesty and professional auto repair services that our staff and mechanics provide to our customers. Each staff member and mechanic at our shops in New Baden and Belleville takes pride in the excellent reputation we are fortunate to have developed with our customers and the entire St. Clair and Clinton County communities. Mission Accomplished Tire & Auto is grateful that our customers repeatedly choose us for their auto repair and tire needs and frequently send their friends and family to our shops for their automotive repair needs as well.

Each expert mechanic on our team understands that the very thought of getting an automobile repaired can make most people nervous. For those who are not savvy about auto repair or are uncertain whether or not the correct repairs are being performed on your automobile at either of our New Baden or Belleville auto repair shop is the perfect place for you because of the following reasons.

Mission Accomplished Tire & Auto pledges to all of our customers that we will not remove any part from a vehicle in order to complete an auto repair unless it is absolutely necessary. Additionally we promise to diagnose all auto repair problems in an honest and professional manner. Each mechanic and staff member in our shop strives to provide prompt and courteous service to all who visit our auto repair facility in the hope that you will come back to us for all of your auto repair needs.
Special Offers & Savings
Mission Accomplished Tire & Auto invites those interested in saving on some of the various automotive repairs our auto repair shop offers to check out the special offers provided below.
FREE
Check Engine Light Offer
Check Engine Light On? Get a Free Inspection!
$9.99
A/C Performance Inspection
Stay cool New Baden ~ Belleville with an automotive air conditioning check.
$15 Off
Automotive Battery Offer
Save today on high-cranking peformance automotive batteries.
FREE
Free Battery Check
Don't Get Stranded by Dead Car Battery
New Baden
1140 Bailey Rd
New Baden IL
62265
Weekdays:
8 AM to 5 PM
Closed Weekends
Belleville
4460 State Route 161 E
Belleville IL
62221
Weekdays:
8 AM to 5 PM
Closed Weekends